Japan's biggest website 2channnel (2ch.net) , with 230 million page views per day is now on the harsh suspicion by the users and its side effect is firing voice of revealing the related insider transaction suspect. 2ch board is alleged to be founded in 1999 by one university student ( Hiroyuki Nishimura ) at the time. And it should be a non commercial, independent community for FREE SPEECH where the first priority is user's privacy. But, in quite queer way it was revealed that those positions are completely false. A sudden Facebook posting by Mr. Uchiyama who is a CEO of Hottolink INC made the beginning.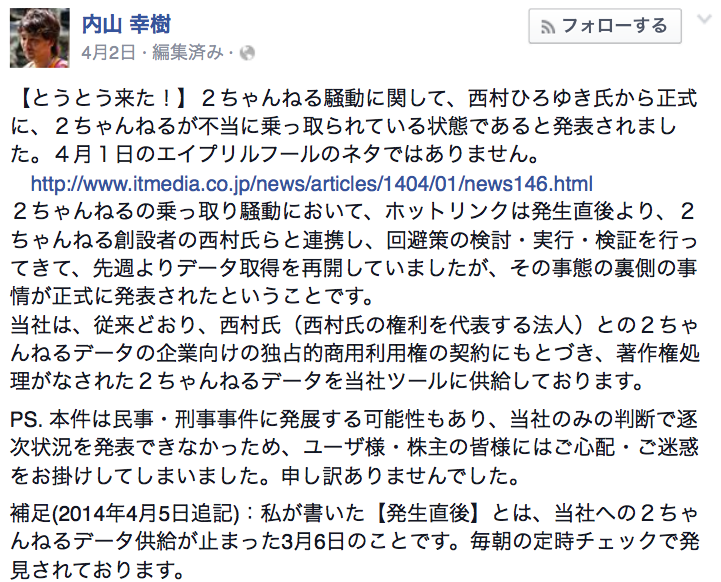 ( Uchiyama's posting to Facebook's personal web page. )
The company is a big data seller and also engaging in ''an information manipulation service to delete the defamation to its customers ''. In Uchiyama's personal Facebook statement he said Hiroyuki and he had been failed to get back the administration right from their ex-business partner Mr. Jim since Feb 19, 2014. Actually, In April 1, 2014, Hiroyuki announced that the 2channnel is in a illegally occupied status and he should make another 2channnel ( 2ch.sc ), but it was taken as a April fool joke by famous aloof character, Mr. Hiroyuki.
This announcement leads many web site users confused and some sought for what is happening behind the scene. As a consequence the insider transaction suspects suddenly rose up.
According to the submittal form to Tokyo Stock Exchange Market anonymous person found out, Mr. Uchiyama sold 80000 stocks of his company ( Hottolink ), in Feb 19, 2014. It was the very day Hiroyuki and Uchiyama lost control of 2channel. And only in March 10, the Hottolink made a formal statement that '' We have some trouble in getting the data from 2channel ''. Needles to say, for a listed company to exchange market, it is a obligation to tell the important issues on its business. In spite of that, Mr. Uchiyama sold his own stocks before announcement. It consists an very typical insider transaction. ( in reality, The Hottolink's stock price has been keeping on down since Mr. Uchiyama sold his own share.)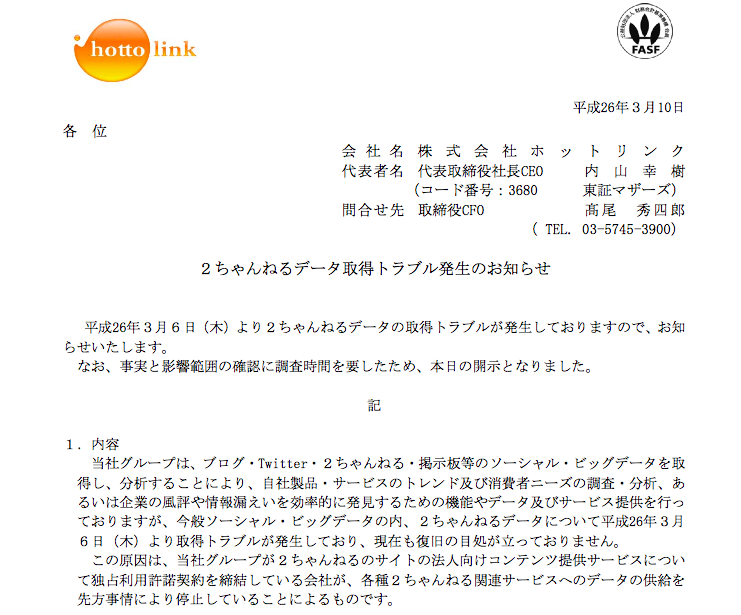 ( March 10, 2014 press release by Hottolink ICN )
And what was also shocking was the fact that the privacy of users were sold to big data company. Then one question comes to everyone's minds. '' From when? '' ; in what timing 2ch has started to sell the data to businesses? ( In other words, users privacy.) Had the anonymous statuses been just a pseudo anonymity for the users?
Many furious internet users ( exact numbers still unknown, but it seemed to be dozens of hundreds ) responded the scandal and started research in various ways; some kept on searching via web, others got official certificate of related companies from the governmental office. The author went to the Tokyo district court to see the related company case records.
And after more than 1 month, it was made clear that 2ch has been selling data since 2000, just next year it had started. This astonishing information was given by authors interview to Mr. Naruse, COO of Hottolink. Accoding to him, the hottolink succeeded the business from original buyer who had been collecting 2ch data around 2000.
The buyer was, Korean company Gala Incorporated's branch in Japan. After scrutinizing, the company's (which is enlisted to stock market. too ) press release in 2003 was found in which the company announced the contraction to 2ch was just starting. And on that issue I conducted hearing from M.S Minakami Yoko in Gala. Pressed by author, Gala just kept on giving buck ambiguous answer that '' The formal contract to commercial use of 2ch data started in 2003 ''. What does it mean? Informal contract existed before that? Or Gala was volunteering to collect the data using its resources which shall be used for stock holders goods ? ( To those questions, Gala is still keeping on silence. )
And Gala's statement seemed to contradict Mr. Naruse's saying that the 2ch data is gotten from 2000 and Hottolink received all the heritages of Gala in 2ch business.
What makes this scandal more sensational is, the validity of this phone interview with Naruse is now supported in the HITACHI website where is the last company to have a connection to underground channel board. In its system engineering division, HITACH SYSTEMS is now showing that it has a business partnership to hotttolink and the service has started in 2000.
It makes another insider suspect. This time, the problem is on transaction of Gala's stock. When it started to hold 2ch's big data was a important factor for investors in Stock Market. In spite the fact that it had the 2ch, Japan's biggest website's data since 2000, the Gala mentioned nothing about the relationship to 2ch before 2003. And even after 2003, it never admitted to have piled the 2ch data since 2000. So, if anyone who had known the fact transacted its securities, he or she shall have committed an insider transaction. ( the plausibility of the case is high, because Gala was first enlisted to Stock Market in 2000. )
Those scandals related to 2ch is, now enfolding industry giant HITACH group. The '' non-profitable '' 2ch website, seemed to be a very prosperous business. And one mystery remains; why the related company withheld information that they hold the 2ch related data? It must have been a business advantage. Is there any reasons they did not want to be known the relationship with 2ch? For related topics ( including the hidden 2ch's connection to Japanese government party LDP ) please see the below links.
Related Story 1 Japan's Government Party LDP Sponsored and Cultivated the Right Wing in Underground Anonymous 2channel Board.
Related Story 2 "Japan's Largest Website 2ch.net Cyber Attacked by the Founder Hiroyuki Nishimura"

Related Story 3 Japan's version of Youtube Mimicked Site Nico Video's Nazi like Propaganda Exploited by owner, ex-PM Aso Family.